Jorvald
Mormaer
posted
Mon at 10:55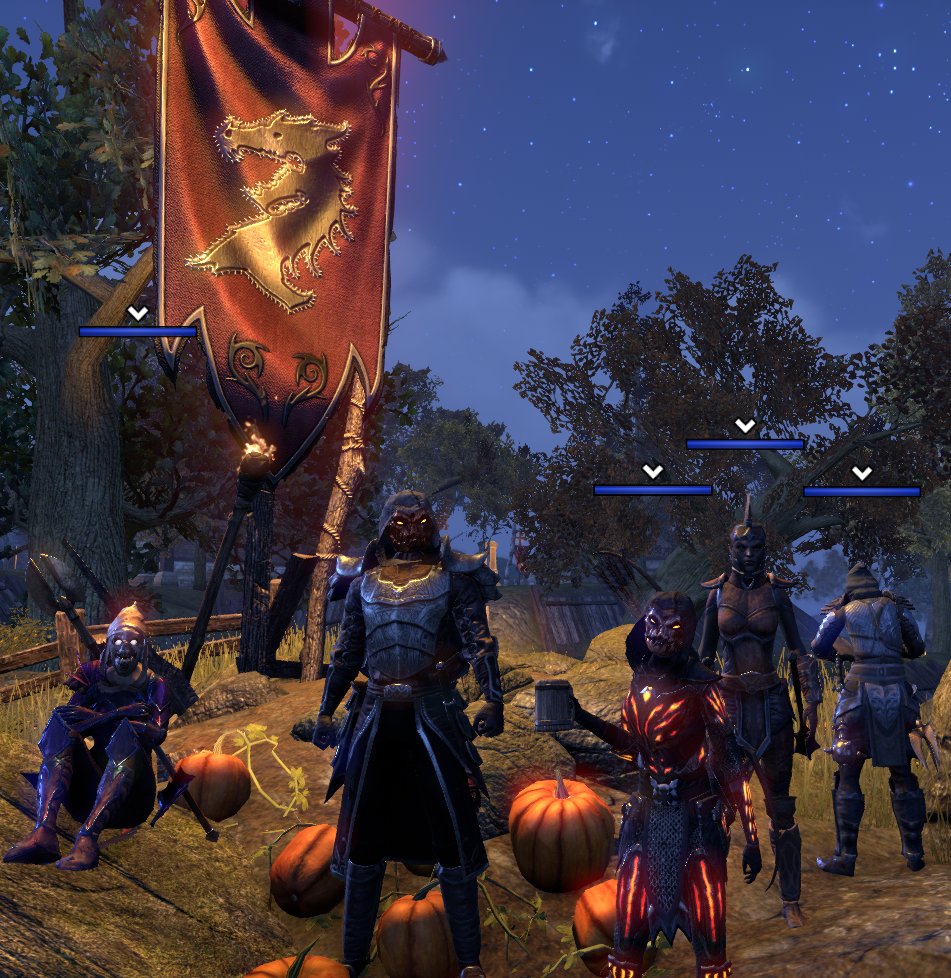 Myd, Jor, Lucian Helim and... Hamble's rear end in Cyrodiil.
The skulls have been flowing lately! Both inside Cyrodiil and out in Tamriel with skull farming for the Witches Festival event! Remember to make use of the remaining time of the festival to ensure you have all the Hollowhack motifs (im sure the entire ESO population is good here), the achievements and most importantly; the spectre masks - oh and the double xp is always great! Next week, they'll all be a thing of the past! On the subject of the Halloween "season", don't forget about our annual Pumpkin carving / screenshot contest! The reward has again yet to be announced, but will worth your time!
Now that "One Tamriel" has been out for a few weeks and many of our members have surpassed cp160 and obtained some new gear and monster sets, we've begun to trickle back into Cyrodiil as a guild, so be sure to keep on the look out for the weekly PvP events on the calendar and our groups forming up in guild chat.
I just wanted to note and remind people that any member can make calendar events. So if our current scheduled times don't work or if you just wanted to do something different, feel free to add a new event! The more variety we can offer our members the better!
Arro making us proud while streaming while being hosted by CSE!
Before I mention CU, I wanted to remind everyone of the importance of social media nowadays. It's 2016, almost 2017 and while I am one of those people who prefer not to use it, social media outlets only further promote, advertise and keep people in the loop for a community such as ours. I understand we epitomize the word of "stubbornness" on many different levels, but again, engaging with our social media outlets or even just "following" can not hinder our continual growth. Currently, we only have one official social media outlet: Twitter and Arro's Twitch acts as CS's twitch when the time calls for it. So i'd like to ask all of us to give it a shot; login to old accounts or make a new one, follow us and if you don't like it, don't log back in. At least give it a shot.
On the CU front, it's still pretty much the same as far as I've been able to see. CSE continues to be hard at work making the future home of CS and numerous other PvP guilds, MJ and Lady J are currently on a well deserved vacation and Arro was again hosted by CSE on twitch! One thing of note was that it via one of the test builds on Wrymling the Arthurians have a confirmed new race; The Picts. This may not be news to some of us, but last we heard of it, it was something "being considered". Interesting enough, this comes as the Vikings are already short a race or two compared to the other factions.